Architecture
Concept
Mamori uses proxy technology to monitor, record and inject security workflows into standard communication protocols. Enabling enhanced security and access management without the need to deploy agents or requiring updates to servers, databases or endpoints.
Available Proxies
ssh proxy: protects ssh & sftp traffic

database proxies: protects database wire-protocol traffic

http/s proxies: protects application and API http/s traffic
Mamori Server
The mamori server is the main component of a mamori deployment. It contains the ssh proxies, database proxies and all services required to configure and monitor your mamori server and infrastructure
Deployment
method: docker container

location: on a server near the databases and servers to be secured.

download: click here to access dockerhub repo
Server Services
| Mamori Services | In Container | Min Version | Description |
| --- | --- | --- | --- |
| Docker | | | Container Manager |
| Mamori Core | Yes | - | Configuration Portal (nginx 1.20, phoenix/elixir 1.7.2) |
| Proxies | Yes | - | SSH, MySQL, SS, Oracle, Mongo, Postgres and other JDBC. HTTP/S Proxy (separately installed) |
| Wireguard | Yes | 1.1 | Remote Access Firewall Tunnelling service. product link |
| Postgres | Yes | 9.6 | Configuration Store |
| InfluxDB | Yes | 1.8 | Activity Instrumentation Store. product link |
| Grafana | Yes | 8.1 | Custom Dashboarding service. product link |
Application Proxies
Application proxies are required to enable on-the-wire role based security and data privacy (masking) controls on applications and APIs without changes to the application. They are not required for 2FA SAML integration.
Deployment
method: jar

location: on a server near the applications to be secured.

download |ENTER LINK|
SDK API
A set of JS bindings for the mamori API that can use used to script common tasks and integrate with 3rd party solutions.
Deployment
method: git project

location: install where required

repository click to access repo
Diagrams
Mamori Server Services Traffic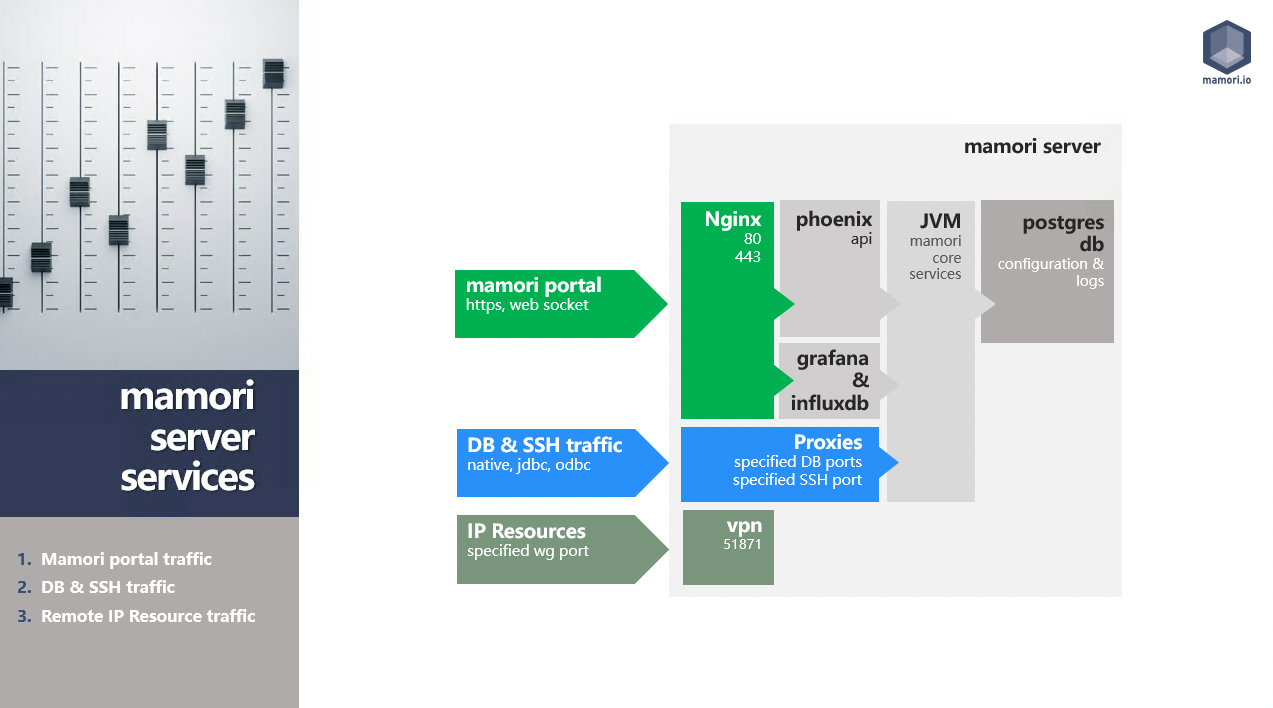 Remote Access Workflow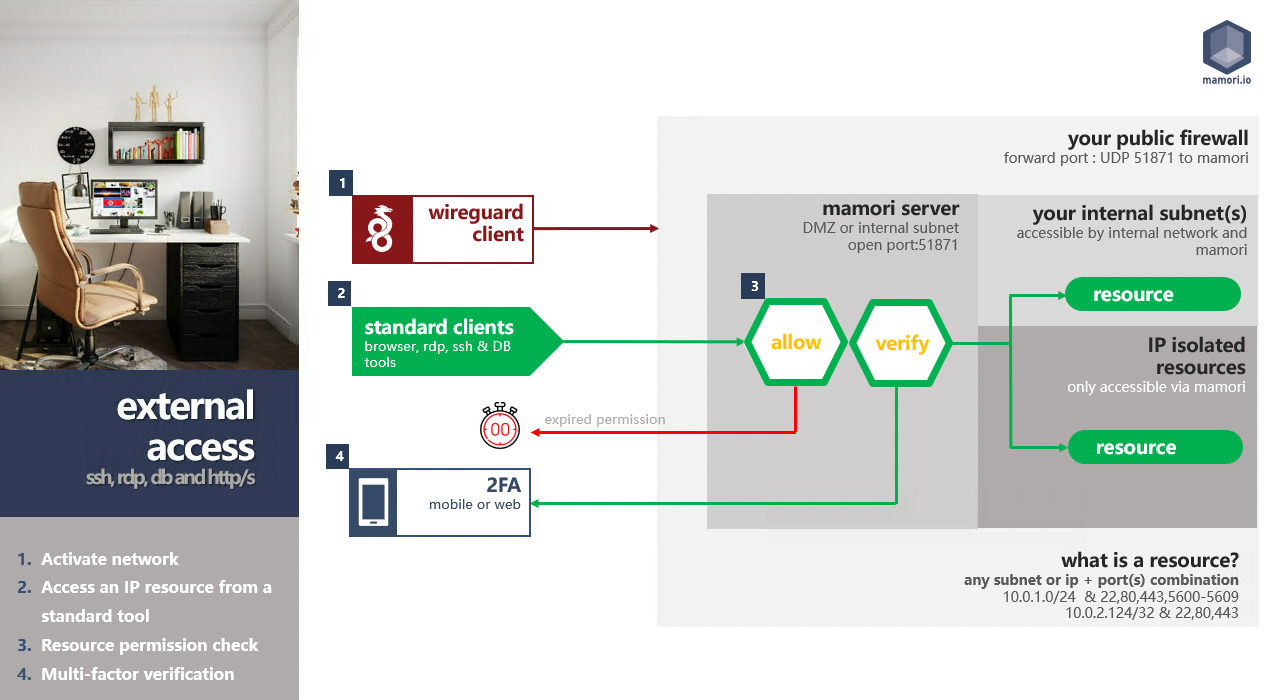 Internal WAN Access Workflow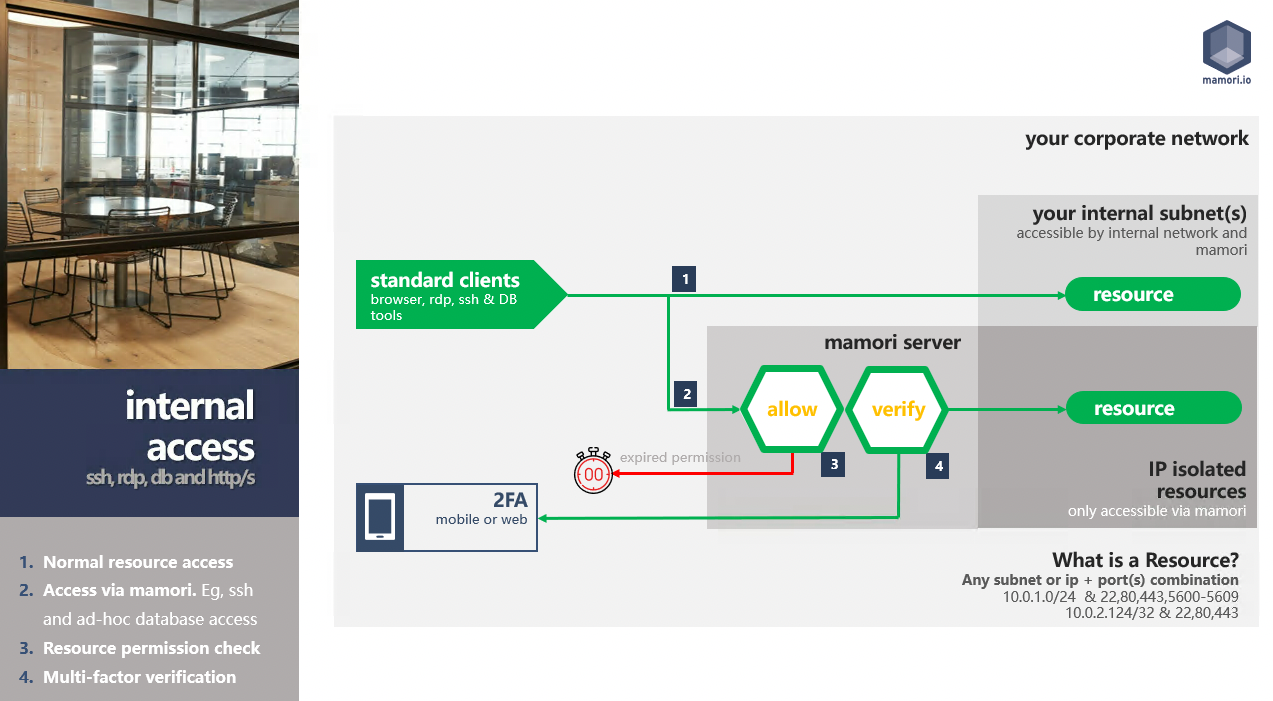 Database Proxy Workflow